Taylor & Ring Files Lawsuit Against PSUSD, CVUSD for Failing to Protect Students from Sexual Assault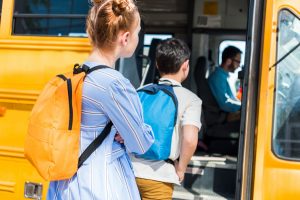 Taylor & Ring is representing two women ("Jane Doe 1" and "Jane Doe 2") in civil claims against Palm Springs (PSUSD) and Coachella Valley Unified School Districts (CVUSD), alleging a failure to protect students who were sexually abused by bus drive Jose Luis Moncada.
Moncada, who was arrested and charged with eight counts of "committing lewd acts with three children under 14 years old" in 2020, faced an investigation in 2004 for abuse, but no criminal charges were filed. He was fired from his position at Laidlaw Transit, Inc. (now called First Student) that same year because of the allegations; First Student supplied school buses for PSUSD. From 2005 through 2020, he drove a school bus for CVUSD. The Desert Sun reports that "Prosecutors say he abused two children [in CVUSD] in 2010." First Student is also listed as a defendant.
"It's the same pattern over years"
Doe 1 and Doe 2 both reported that Moncada abused them to their respective school districts. They have filed the lawsuit because the schools failed in their roles as mandated reporters, as neither school reported the abuse to law enforcement. This failure to report allowed Moncada to secure a job with a different bus company; it also allowed him to continue sexually abusing children.
"It's the same pattern over years: students and parents report misconduct and the school district did not respond appropriately," Brendan Gilbert told the Desert Sun. "Two of the victims ended up later running into the bus driver in different settings; that's shocking."
At this time, there are three known victims of Moncada, but there could be more. "We hope there aren't more victims out there, but if there are we hope they speak out when they feel empowered enough to speak their truth," said Gilbert.
Suing a school district for sexual abuse by a contracted bus driver
School bus drivers are employed by bus companies, which then contract with different school districts. But the school districts can still be held liable if their students are abused by the bus driver, because they owe a duty of care to protect their students. As Gilbert explained, "How does that get you [the school] off the hook? [The driver's] an agent for you if he's transporting students for you. He was responsible for getting students safely to and from school."
Further, because the students (via their parents) reported the abuse to PSUSD and CVUSD, the employees of those districts are obligated to report those accusations to law enforcement, under the California Child Abuse and Neglect Reporting Act. Failure to report is a crime, punishable by fines and jail time, and those who fail in their duties can be named in civil lawsuits.
If you or your loved one was a victim of sexual abuse, or if you reported an act of sexual abuse and your school district failed to follow the law and report your claim to law enforcement, we want you to know that you do not have to face this alone. Taylor & Ring has been representing childhood victims of sexual abuse for years, securing multi-million-dollar awards from school districts across California. We believe that there may be more victims out there.
To speak with Brendan Gilbert about this case, or to work with any of our sexual abuse attorneys on a claim against a school district, please call 310-776-6390 or fill out our contact form to learn more.