Car Crashes into Building – on the Second Floor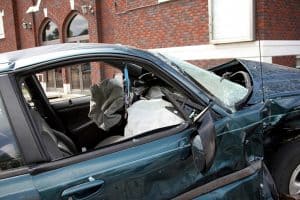 In a story that might make you say, "Only in California," police were recently called to the scene of a car accident where a sedan had driven into the side of a building. On the second floor. The car was actually embedded into the side of the building, like something out of an action movie.
This was no high-speed, wild chase—no villains, no gun play, no superheroes. Just a freakish, one-in-a-million accident where, unbelievably, nobody was seriously injured.
The driver, who later admitted to being on drugs, was driving at a high rate of speed, crossed three lanes of traffic, and hit the center divider on a roadway in Orange County. The divider was covered in a mound of dirt, which, in tandem with the high speed, seemingly acted as a sort of ramp—launching the car into the air, right past traffic on the other side of the road, and straight into the second floor of a dental building. The car remained lodged in the building until removed by county workers.
No other vehicles were involved in the incident, although frightening dashcam footage from a city bus shows the car whizzing right past it, airborne.
The car crash then caused a small fire, resulting in minor injuries. One person was able to exit the car unassisted, but firefighters had to extricate a second person trapped in the sedan. The driver admitted at the scene to using narcotics and was expected to be charged with a DUI.
This might be a good time to talk about the dangers of driving after doing drugs. Everyone is aware of the dangers of drunk driving, but driving under the influence (DUI) also includes drugs. This particular driver admitted being under the influence of narcotics. California law defines "drug" as any substance or combination of substances, other than alcohol, that can impair a person's ability to drive safely. This can include both prescription and non-prescription drugs. The penalties for being charged with driving under the influence of drugs are typically the same as driving under the influence of alcohol.
This particular driver was lucky that their car crash didn't result in any injuries, other than some minor ones. Many are not so lucky, as we read stories of fatal and terrible accidents every day. This will end up being filed under "Weird News" for eternity, and the worst injury that occurred was to the poor building that ended up with a huge hole in it.
The attorneys at Taylor & Ring are here to help if you are injured in a car accident that wasn't your fault. We fight tenaciously for the rights of accident victims throughout the Los Angeles area. Contact our legal team today at 310.776.6390 or complete our contact form to schedule a consultation.