Former California Priest Arrested on Sexual Assault Charges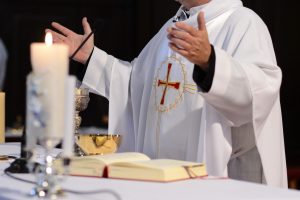 A former Roman Catholic priest from California was arrested at his home in Rhode Island by the Rhode Island Violent Fugitive Task Force on charges of sexual assault. Christopher Cunningham was arrested on a warrant that accuses of him sexually assaulting children in California. At the time of his arrest, Cunningham was working as a psychologist.
Los Angeles County District Attorney George Gascón told reporters that Cunningham was arrested for reportedly sexually assaulting four boys at two different parishes almost 20 years ago. Cunningham has been charged with 12 felony counts of lewd acts upon a child under 14.
"The victims were innocent children who have spent most of their lives with the trauma caused by the abuse alleged in this case," Gascón said. "My office is committed to holding accountable anyone who abuses and takes advantage of our children, especially when they hold a position of trust."
Clergy sexual abuse accusations against Cunningham during his time as a priest include:
An 11-year-old boy twice between November 1995 and September 1997 at Saint Mary's Catholic Church in Palmdale.
A boy (age not specified) between June 1996 and June 1998.
A 12-year-old boy twice between July 1998 and January 2001 at Saint Lawrence Martyr Catholic Church in Redondo Beach.
A 10-year-old boy during the same time period above.
Claims of clergy sexual abuse have tripled recently
In the 2018-2019 audit year, the Catholic Church in the United States said that claims of clergy sexual abuse tripled from the previous year. There were 4,434 claims made in 2018-2019, according to U.S. Roman Catholic Bishops. A majority of the claims stem from survivors of decades-old molestation that decided to come forward after a grand jury in Pennsylvania reported hundreds of cases of abuse.
The most recent report on abuse was the 17th issued since 2002. That was the year in which the U.S. Bishops adopted a set of procedures to fight abuse in the church. The latest report notes that there were more than 2.6 million background checks conducted on volunteers, employees, and clergy in 2019. In the same year, more than 3.6 million youth were trained on how to recognize and report signs of abuse.
The Survivors Network of those Abused by Priests stated it is concerned that only 60 percent of parishes across the country are conducting safety audits without being forced to do so.
"We remain convinced that the best avenue for change is through secular, elected officials like attorneys general," the group said. "Every single sitting attorney general should be investigating cases of clergy abuse in their state, identifying enablers and removing them from power, and ensuring that hidden abusers are made known to their communities."
A three-year window opened for clergy abuse victims
California Governor Gavin Newsom signed Assembly Bill 218 into law in 2019. The bill opened a new three-year window for victims of clergy abuse to file claims against their abusers. The three-year window opened in January 2020. It allows for new lawsuits to be filed. A one-year window was opened back in 2003.
The Survivors Network of those Abused by Priests released a statement about AB 218:
Every time a survivor comes forward to tell their story, society becomes that much safer. We know that many Catholic abusers are alive and unmonitored, meaning they pose a current danger to the communities in which they live. Fortunately, AB 218 will help repair that problem, allowing survivors to come forward and creating safer, more informed communities. In this sense, California has been a model for how secular government can and should get more involved in protecting the public, enabling remedies for victims where possible, and investigating the institutions that have enabled and covered up abuse.
What are the signs of clergy sexual abuse?
Parents should be on the lookout for the following signs of clergy sexual abuse in their children:
Spending a lot of time with an adult who is not a member of the family
Depression and sadness that is not the norm for their personality
The child attempts sexual acts against another child
The child cuts themselves off from their family and friends
The child withdraws from activities they normally participate in (sports, clubs, hobbies, etc.)
Consuming alcohol and drugs
Sudden weight gain or loss
Reduction in socializing and loss of friends
Showing an increased aggressive behavior
Having or expressing suicidal thoughts
How can I find out if my priest has been accused od sexual assault?
If you want to know if you or your child has spent time around a clergy member who has been accused of sexual abuse or assault, you can search a database of dioceses and names compiled by ProPublica. The database includes California and the rest of the country but only has names of priests that have been provided by the dioceses where they worked. The dioceses that haven't released names of accused priests are marked as such.
Were you the victim of clergy sexual abuse as a child? Has your child come to you with stories of clergy abuse? If so, it's time to discuss your situation with a compassionate Los Angeles sexual abuse attorney from Taylor & Ring. Please call 310-776-6390 or fill out our contact form on the website to schedule a free consultation with a member of our team. We represent victims of clergy sexual abuse in Los Angeles and throughout Southern California.