Reporting Sexual Assault: Know Your Rights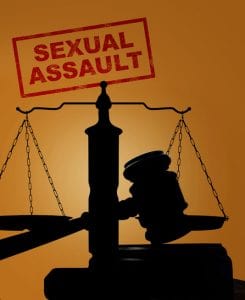 Someone in America is sexually assaulted every 98 seconds.
Sexual assault is any kind of non-mutual sexual activity, from subtle to violent. This can include rape, sexual threats and intimidation, incest, sexual assault by partners, child sexual abuse, sexual trafficking, sexual harassment, street harassment and other forms of unwelcome, coerced or non-consensual activity [CALCASA]. Assault can leave the victim feeling physically and emotionally traumatized, and they may not know where to turn for help.
If you are sexually assaulted and make the decision to report the assault, knowing what to expect can make the process a little easier. Authorities should be properly trained to take your report and handle any follow-up investigation with care. You have several options to report an assault:
Reporting through a medical center. If you are being treated for injuries related to the assault, tell a medical professional you want to report it. You can also request (or turn down) a sexual assault forensic exam.
Calling 911 if you are in immediate danger to get help.
Contacting your local authorities. Call your local police department or go in person to report the crime. Many law enforcement agencies have officers trained specifically to work with survivors of assault.
The statute of limitation on rape or sexual assault in California is six years, so it is best to report it as soon as possible.
California's Sexual Assault Survivors' Bill of Rights
On October 12, Governor Jerry Brown signed the Sexual Assault Survivors' Bill of Rights (AB-1312), a bill lauded by victims' rights advocates across the state. The bill protects survivors of sexual assault by making reporting assaults and pursuing cases less complicated. The Bill of Rights allows survivors to:
Receive a standard card outlining their rights and providing resources
Receive a copy of their police report
Access their medical records
Get free showers at a medical facility after a forensic exam
Apply a 20-year statute of limitations to sexual assaults
Preserve all rape kits for unsolved cases for 20 years (in the case of a minor, until the minor turns 40)
Receive emergency contraception after their assault
Lawmakers hope the passing of this bill will encourage more victims of assault to come forward and report the crime. Many sexual assaults go unreported due to lack of trust in police and authorities. Having legal and undeniable rights may help some women make a decision about reporting.
The trauma of experiencing a sexual assault can be almost unbearable. At Taylor & Ring, we will listen to your story and provide compassionate, experienced representation. If you need help in Los Angeles or Southern California, please call us today at 310.776.6390 or complete our contact form to schedule a consultation.