Southern California Woman Dies in Chain Reaction Crash with Truck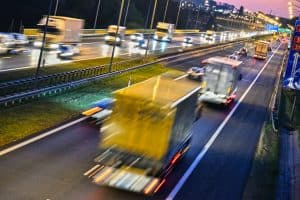 Earlier this month, a woman was killed and at least one person was injured when a truck rear-ended a car, pushing it into a city bus. According to witnesses, the woman was stopped at a red light and the truck came up behind her but failed to stop, pushing her car into the intersection, where they both collided with the bus. The woman was killed at the scene after the truck ended up on top of her car.
Authorities do not yet know the cause of the accident, and the drivers of both the bus and the truck were tested for drugs and alcohol, but authorities stated they did not believe substances were factors.
The truck involved was a pickup truck hauling a trailer, which came loose in the accident and hit the side of the bus. Although authorities have not yet released a cause of the accident, this is a good time to talk about driving with a trailer. Small moving trailers available for rental to the general public take some skill to handle, yet often come without safety manuals. Without proper weight distribution, they can quickly begin swinging back and forth on the highway, potentially causing a car, truck, or RV to go out of control and cause an accident.
When dealing with cars or trucks towing trailers on the road, you should take the same cautions you take when dealing with tractor-trailers and 18-wheelers—and assume that the driver is inexperienced. Use the following tips if you are sharing the road with a vehicle hauling a trailer:
Remember trailers require extra stopping time and more room to back up, so keep a healthy distance between your car and the vehicle hauling a trailer in front of you.
Vehicles with trailers need to make wide turns. It may swing left before making a right-hand turn. Do not get into that empty space in the right lane or you'll risk getting hit.
Most cars and trucks are not built to regularly haul trailers, so they will likely have blind spots. Stay out of these blind spots as much as possible. If you are passing a vehicle on the highway, do it quickly and get out of the way. Do not tailgate, and ensure the vehicle can see you at all times.
Keep an eye out for jackknifing, especially when the vehicle is making sharp turns.
As a fellow driver, there is no way for you to know when the trailer another person is hauling was last inspected or repaired. There could be safety or maintenance issues you (or even the driver) know nothing about.
If you or someone you love is injured in a truck accident, contact the Los Angeles attorneys at Taylor & Ring. We will advocate for you and work to get the compensation you deserve. Call us today at 310.776.6390 or complete our contact form to schedule a consultation.