Waymo and Jaguar Developing Premium Self-Driving Car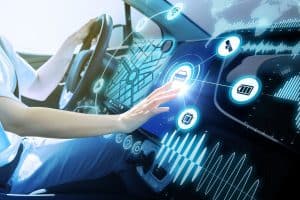 Waymo has just announced a new partnership with Jaguar to build and outfit up to 20,000 I-PACE fully electric cars over the next two years for their self-driving ride-hail service. They plan to put the fleet into production by 2020 and have prototypes on the road in Arizona by the end of 2018. This will be Waymo's entry into the luxury arm of the ride-share market, much like UberBLACK.
The Jaguar I-PACE is a compact sport utility vehicle, completely electric, with a range of 240 miles. It has a large 95kWh battery and a quick recharge time, making it optimal for ride-hailing services. Waymo already offers a driverless ride-hailing service around Phoenix on a small scale, using Chrysler Pacifica minivans—the only service of its kind. Adding 20,000 Jaguar SUVs can completely disrupt the transportation network company (i.e., Uber, Lyft, taxis) industry, with the ability to handle a million rides per day.
The consumer, drivable version of the I-PACE will hit the market later this year, as a competitor to the Tesla, with a base price of about $70,000. The self-driving version will be equipped with sensors, cameras, and mapping technology.
Driverless technology is under the microscope
This announcement, however, comes at a time when driverless technology is under scrutiny. In mid-March, a driverless vehicle owned by Uber struck and killed a pedestrian crossing the street in Tempe, Arizona. Uber has halted their autonomous vehicle program since the crash, and questions have been raised about whether the vehicle's technology was working as intended. The backup driver in the vehicle may also have been distracted at the time of the car accident.
Chief Executive of Waymo John Krafcik is reassuring the public that his company's technology is both superior and safe. "We have a lot of confidence that our technology would be robust and would be able to handle situations like that one," he told auto dealers at a Las Vegas convention.
It remains to be seen how consumers will react to incidents such as Uber's fatal accident, and whether incidents like that will slow down the progress of driverless cars and services. Many safety researchers and experts believe that, even with the accidents that have occurred thus far, autonomous vehicles are safer than human drivers, overall. But it could require millions and millions of miles of study on public roads to get concrete, real statistics.
One of the more interesting outcomes of the Jaguar-Waymo partnership is the luxury aspect. Owning a luxury car is certainly a status symbol. Will using a premium car for a ride-hailing service become a status symbol as well? It seems we're set to find out.
There are many legal issues at play with self-driving and autonomous cars, and there are still many unknowns. One thing that does stay consistent, however, is that Taylor & Ring are here if you are injured in a car accident that was not your fault. Our attorneys fight tenaciously for accident victims in and around the Los Angeles area. Call us today at 310.776.6390 or complete our contact form to schedule a consultation.